Before I begin, here, lemme say HAPPY BIRTHDAY BRANDOG! WOOOO! And happy halloween!
Our second day in Cairo began early. Well, early for me - we were in the lobby of our hotel just before 8, where we were handed a bag of bread, jam, and odd white cheez spread and bundled into a van for our trip to the Pyramids.
Our guide's name was Yasir ("Like Arafat, but not Arafat," he said to clarify) and he started off with what we had heard was the usual spiel for the tourists, telling us of a papyrus shop we absolutely had to visit if we wanted to understand the ancient Egyptian art of paper-making, and a perfume shop where the alabaster bottles were hand-crafted and the contents were precious.
"How about the Pyramids?" we asked.
Yasir obliged. We drove for quite some time through the sprawl of Cairo, but eventually the city started to recede and we found ourselves by the banks of an irrigation canal. Then, we turned a corner, and
Bam!, as Emeril would have it - we were there. This shot is from not too far away, and gives you a feel for just how bad the pollution is in that area. Yasir said this day, the smog was unusually fierce.
The Great Pyramid of Cheops is the one on the left; the middle is his son Chepren's, and the smallest one on the right belongs to Mycerinus.
Though I was perfectly content to admire the view from where we were, Husbear took off a little ways into the desert for another perspective.
Yup, tiny-man is him. And what did he see, from his vantage point?
Snacking camels, arrayed like a game of Hungry Hungry Hippos!
I think the one on the left caught him in the act. Always get permission for a photo.
It was truly amazing to actually be there, looking at the Pyramids with my own eyes. These guys have been here for 4500 years, a span of time completely incomprehensible to me.
It was impossible to avoid getting trigger-happy with the camera. We got a little silly.
Yasir gave us some time to wander around on our own - perfect, since I had my guidebook and Husbear his camera. What more could we want?
Tourist police were thick on the ground, though hawkers were even more common. Some were dressed traditionally, and would try to jump into pictures with you then ask for money. Others were of the more directly enterprising type, with bags of cameras and batteries, head scarves (to protect from the boiling heat), postcards, carved rocks, et cetera.
Most of the tourists there seemed to be in large groups, being ushered quickly through the site. Husbear and I were thankful to be able to have some time to ourselves.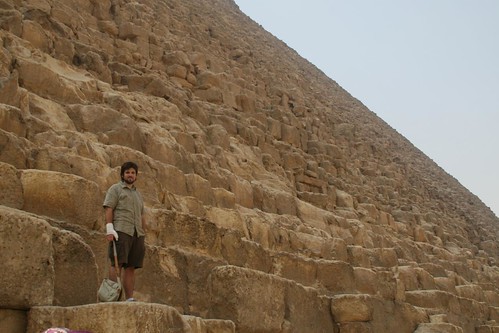 Husbear was perhaps a little more adventerous than me. I was feeling this need to keep my feet firmly planted on the ground (perhaps it was the copius "no climbing" signs!)
This picture is from along the side of the pyramid of Khefre. It's rather difficult to express the scale with just a few small pictures on your screen...
Is your interest flagging? Here, I'll throw in a funny picture to spice things up.
Ah, the famous lout flower. Symbol of Egypt.
Anyhoo, moving along to the Great Pyramid, the first, belonging to Cheops - the paterfamilias.
The views were so evocative, especially given that most of the area was festooned with camels.
This probably doesn't come as a shock, but Egyptians cover themselves. Especially the women - long pants and long sleeves are de rigeur. It was a bit of a suprise to me to see tourists at the Pyramids wearing short shorts and tank tops.
After a little while spent wandering happily amongst the Pyramids, we hopped back in our van for a look at the Sphinx. It's in part of Chepren's well-preserved funerary complex, including parts of his temple. I wonder what it would have looked like had Napoleon's troops not shot the nose off? Dumbasses.
This was the moment during which I experienced my greatest level of "oh-wow-I-really-am-seeing-this" - probably because, though the Pyramids are impressive, when it comes right down to it a lot more actual craftsmanship went into the Sphinx.
Unfortunately, we soon had to leave. One of the unfortunate aspects of being in Egypt during Ramadan was that many museums and sites close early, and we didn't want to miss Saqqara!
But first, we acquiesced to the idea of visiting a papyrus shop. After all, we were curious.
Glimpses of Cairo while in transit:
We passed a street market. I can't believe how easily these ladies can carry large things on their heads!
We arrived at the papyrus shop, and were treated to a brief demonstration. This guy was very nice, and though the sales tactics were fairly high-pressure, we successfully walked out sans papyrus. (Though they did have a lovely one of some ducks that I considered before seeing the price tag.)
Apparently a lot of the papyrus you can buy on the street is banana leaves?
First, you cut strips in the papyrus stalk, which when cut cross-wise is shaped like a pyramid. Then, you roll them out and soak them. The longer you soak the strips, the darker they get. Papyrus is apparently very water- and crumple-resistant. An interesting material.
After the demonstration, we got back in the van for the trip to Saqqara.
Well, really, how else are you going to transport your water buffaloes?
I've never seen so many palm trees... but it is the Nile, after all.
Eventually, we reached north Saqqara, an area filled with pyramids (including the famous step pyramid, the first one of the Pyramid Age). We visited the tomb of Mere-Ruka, which was enormous - 32 rooms, according to my guidebook.
Unfortunately, photography was verboten inside. The reliefs were really interesting, including a lot of scenes from everyday life - dancing, wine-making, bringing in the crops. If I remember correctly, there was also a fascinating relief depicting the punishment of tax-shirkers. They sit in jail.
We also descended a steep and narrow passageway under the Pyramid of Teti, doing our Indiana Jones impressions. Mine wasn't that good.
We took a quick look from afar at the famous step pyramid of Zoser, built in the 27th century BCE. (!!) At its time, this was the largest stone edifice ever built. Unfortunately, it's closed, though we were a little disappointed not to be able to get nearer.
It was getting on a bit into the afternoon, so we unfortunately had to leave the site to return to our hotel.
I have to put a shot of our bus in here - it was probably... no, definitely the odd-man-out sitting amongst the gleaming tour buses. Especially since, it being Ramadan (meaning many people stay up all night and sleep through the day, which I suppose makes the daytime fasting a little easier), our driver and tour guide passed out each time we left for some sightseeing.
Camel!
On our drive back to Cairo, our driver called over a young man begging by the side of the road and gave him a few Egyptian pounds. It was nice to see. Then, he suddenly pulled over next to a small vegetable stand just off the road.
I'm pretty sure he overpaid this guy, whose wife and children were sitting by the side of the road. He purchased the largest cabbage I've ever seen, and an almost equally-impressive cauliflower.
From the "how the heck did they do that" files, a truck we saw while approaching Cairo:
I collapsed upon our return to the hotel and napped for a couple of hours. Though Husbear found Egypt exciting and stimulating, I found it to be more enervating.
Soon enough, though, we were on our way out for dinner, trying to wipe our memories of the bad experience the previous night at Alfi Bey.
We made our way through the nighttime fruit and vegetable markets
and bought our first shwarma from a brightly lit diner. Shwarma can be found all over Europe - it's a lot like gyros, really - but of course, these things are usually better in the land of their origin. We split a tiny sammich, and it was good. They used sweeter spices for seasoning the meat, perhaps cinnamon and coriander? We weren't sure.
We also tried out one of the juice bars that can be found all over Cairo. We had one with strawberry, banana and orange juice - the perfect restorative.
This sign, which I can only assume meant we were in a quiet zone, was laughably inadequate. We were still taking our lives in our hands with every crossing of the street - I tried to glue myself to other street-crossers, but sometimes there was only space for one person to get by.
Our progressive dining continued with a stop at this fast-food place, where we had a very tasty pita stuffed with fuul (baked broad beans), eggplant, and taamiya (egyptian felafel).
The last stage of our meal came after a 20-minute walk towards the Nile. Husbear had read about a place, El Tahrir Fatir and Pizza, and had been jonesing for a fatir. It's like a phyllo pastry, stuffed with savory or sweet fillings.
We settled in and ordered two, one with egg and onion and the other with a feta-like cheese, olives, and tomatoes. I preferred the sharp tastes of the latter, but the subtle sweetness of the former was nice as well. The tastiest thing we ate in Cairo.
Finally, on to the Nile Hilton, for two reasons. 1) they have a great view of the Nile, and 2) it's a place where a woman can comfortably enjoy a shisha, which I wanted to do. After all, when in Egypt...
They only had apple-flavored, which we enjoyed with a wine from Alexandria - Cru des Ptolomees. Not bad.
The view was wonderful, as advertised.
Whew! A long day.
Tomorrow in my chronology - Mohammed Ali's Citadel (the pasha, not the boxer), I have to put on a blanket to cover my shame, and we check out the hanging church. Plus a possibly illegal, though very blurry, picture of the death mask of Tutankhamen.
'til then.
girlie